Many people wear long Kurtis as a fashion statement, especially if you are tall and thin. Long Kurtis, depending on their design, can be a terrific costume for any event, but you should be mindful of their popularity as casual wear. They give you a tall, strong appearance. They also provide you with a cozy feeling. The popularity of long Kurtis might be attributed to its comfort and fashionable combination.
We have a large selection of long Kurtis and dresses. We are going to reveal to you some of the most well-liked long Kurti styles that are offered in our store in this guide. Visit our Online Shop page to see our newest Kurti patterns. Here are a few of the most recent styles:
Long Kurti Design
This is one of the most popular long Kurti styles we currently have in stock. The flare on this 52-inch-long Kurti is nice. The sleeves and hem of the Kurti have a distinct pattern of gold designs. One of the best aspects of this dress is the deep-back design. You can wear this Kurti and look gorgeous. These are the latest Kurti for plazo design. We have the best long Kurti with a trendy design.
Printed blue long Kurti
This long Kurti should unquestionably be a part of your wardrobe if you enjoy ethnic prints. Although long Kurtis is listed as casual clothing in this guide, you can wear this outfit to any occasion. You appear elegant while appearing stylish and current. the blue printed Kurti can wear single and with plazo also.
Long Kurti with floral design and lovely handwork
The front of this light brown features lovely handwriting. Some of this dress' best features are the designs on a light brown background, designer button details, bell sleeves, and flared bottom. The flowery patterns in shades of red, yellow, and many other colors go well with the color of the Kurti. When you wear this lovely long gown-style Kurti, you'll feel more at ease and confident.
Long Kurti for plazo with bhandej print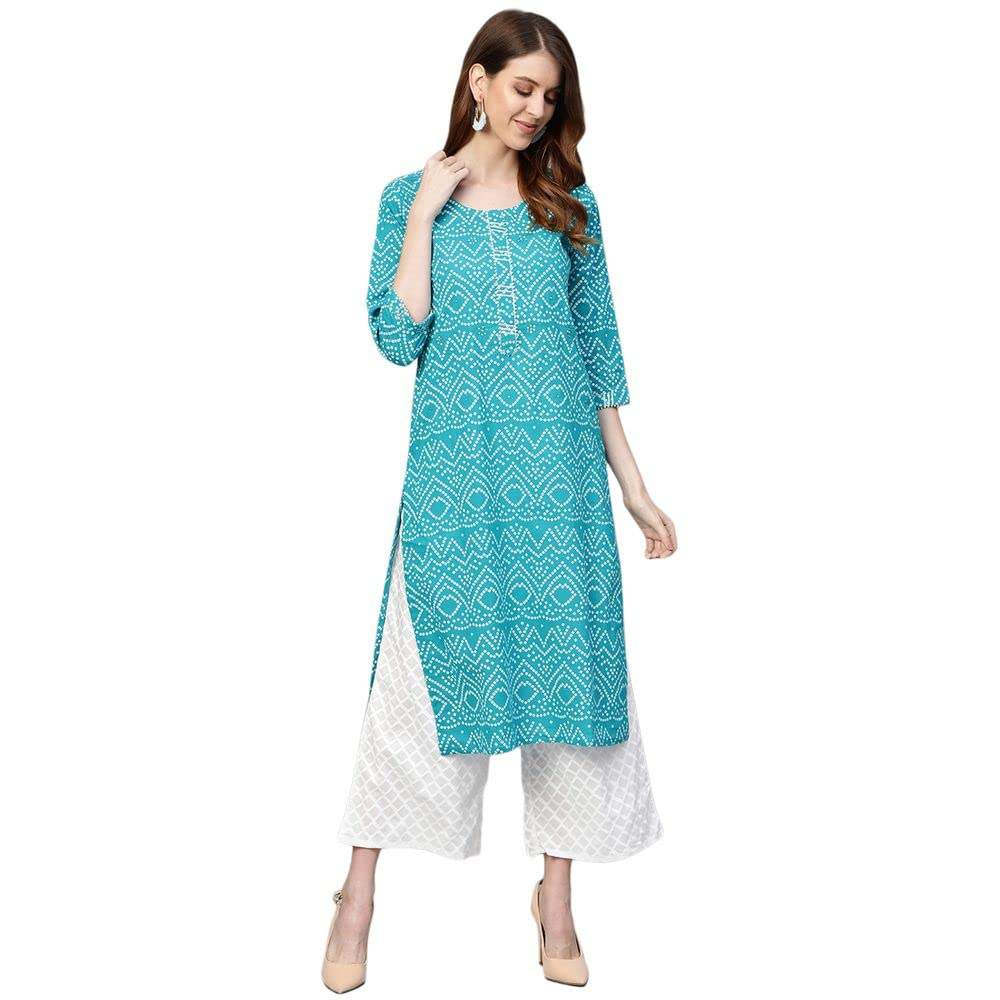 Do you enjoy bandhej ethnic prints? So this outfit is the perfect way for you to mix your passion for bandhej with long Kurti and Kurti with plazo design. This Kurti features lovely ethnic designs. The front's handiwork is fantastic. The Kurti with plazo looks gorgeous. you can wear this Kurti with plazo feel elegant and stylish casual look.
White printed Kurti
The best aspects of this Kurti include the high quality of the fabric, the handwork, and the foil mirror work. This Kurti has a casual style thanks to the flower prints, enhancing your style and making you look chic and elegant. Its attractiveness is enhanced by the light green stripe on the hem and sleeves. We have more than white Kurti with a stylish look that makes you feel comfortable and you can also wear this Kurti for a casual look and office look.
Adda work long Kurti
This modern Kurti design has an ethnic feel because of the adda work. You'll feel assured and prepared for any informal occasion when wearing yellow. This gracefully woven fabric using with high-quality thread to make this Kurti a more stylish and trendy look. This Kurti is made with different colors and styles that make look beautiful
Wrap up
Women of various body kinds have chosen long Kurtis as a favorite. If you've lately put on some weight, they help in concealing the extra flab. They will also make you appear taller and more confident if you are already thin. View some of our long Kurti styles right here.'
If you want to shop online for casual wear, have a look at these amazing long Kurti patterns to add to your closet. Tanisha fashion provides the best casual Kurti for plazo design. We help our customer to make choosing the right Kurti design for every occasion and different style