Indian ladies and girls dress in the traditional Indian outfit known as a saree. The most attractive and classy piece of clothing is the saree. Sarees can be worn on both formal and informal occasions. A saree's length can range from 4 yards to 9 yards. Are you seeking creative methods to drape a saree? Then we have a variety of saree outfit ideas for you.
Sarees are frequently worn with one shoulder draped over the other and the waist wrapped around the waist. Pallu refers to the sari's tail. Sarees are one of the few pieces of clothing that never go out of style. The drape of a simple saree is simple. A saree instantly improves your appearance. Every lady, on the other hand, wishes to learn how to tie a saree. We've got your back, and we're ready to help. We'll show you how to drape a saree in various different ways in this post.
This post is perfect for people who go to a lot of parties, festivities, and meals. You get the opportunity to show off all of your lovely sarees and create a fashion statement with them. There are several saree draping styles to choose from. As a result, a single saree might have an entirely diverse appearance.
Here are several creative ways to drape a saree.
1) The Dhoti Saree
Dhoti-style sarees are popular among fashionistas. Dhoti-style drapes are ideal for individuals who are afraid of falling from a saree. You will need a blouse and Lycra tights to drape the saree. This pattern is easy to embellish and takes little time to complete. Choose a chiffon fabric to show off the drape of this design. You should avoid patterned sarees since they would interfere with the dhoti-like drape. This saree style is both cool and fashionable, as well as comfortable to wear all day.
If you'd like to buy this Dhoti Saree, please go to Buy Now.
2) Saree with double pallu design
This drape is rather unique since it is made up of two sarees that have been expertly folded together. Double pallu saree draping combines traditional and modern trends. There are two sarees necessary, one with a matching blouse and one without. Matching shoes, jewelry, safety pins, and a petticoat are also required. It takes only four minutes. The Double Pallu style is appropriate if you can't tell whether one side is straight or flipped.
If you'd like to buy this Double Pallu Saree, please go to Buy Now.
3) Saree in the style of Mumtaz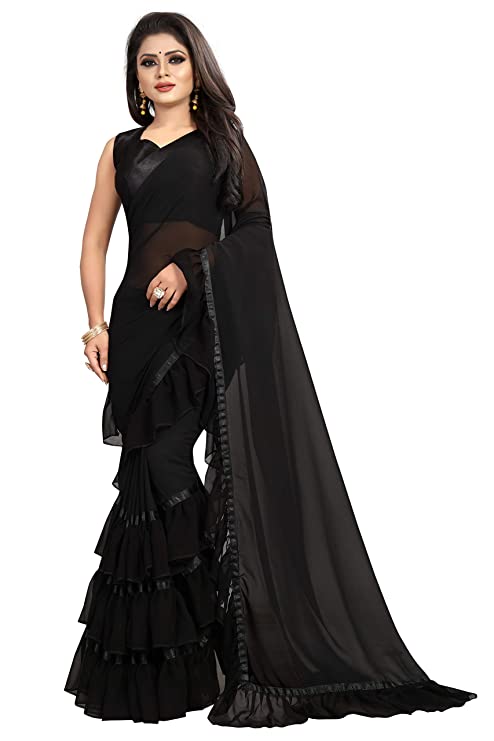 This saree-draping design is a Bollywood classic. Mumtaz's distinct style was first recognized when the seasoned actress wrapped her saree in a body-hugging technique. The song "Aaj Kal Tere Mere Pyar Ke Charche" notably features this approach. This gorgeous and one-of-a-kind look entails wrapping the saree several times around the lower torso. This is done to emphasize your best qualities.
If you'd like to buy this Mumtaz Style Saree, please go to Buy Now.
4) Saree in Pant Style
The pants-style drape is the Indo-western saree drape. The pant-style drape is a fashionable way to wear a silk saree. All that is necessary are leggings or ankle-length trousers. This outfit is simple to pull off with a trendy blouse and a well-fitted top. It's simple, attractive, utilitarian, and practical. This may be the ideal look for your next wedding.
If you'd like to buy this Pant Style Saree, please go to Buy Now.
5) Saree with Butterfly Print
This is how a saree is worn in Bollywood. The butterfly saree is merely a slight variation of the classic saree design. The biggest distinction is that the pallu is fairly thin, revealing the navel. Wear a petticoat and an embroidered blouse to liven up this look. Don't forget to bring your best heels!
If you'd like to buy this Butterfly Print Saree, please go to Buy Now.
6) An elegant belt style saree
Simply put on your saree as usual and add a belt just below or above your waist. This will modernize your saree draping technique. Traditional saree draping might benefit from the addition of a belt. Belts may help define your waist, giving your body a more beautiful and aligned appearance. An ornate, metallic belt worn around the waist might make you seem like Kamarbandh. This is the most straightforward appearance to obtain.
If you'd like to buy this Belt Style Saree, please go to Buy Now.
7) Mermaid-style saree
The mermaid drape, a development of the classic drape, creates a curved look on the hips. To get the ultimate mermaid effect, combine the close-fitting hip part with the flared hem piece at the bottom. Because the pallu does not dangle over the shoulder, you may wear this design with grace at parties and weddings.
If you'd like to buy this Mermaid Style Saree, please go to Buy Now.